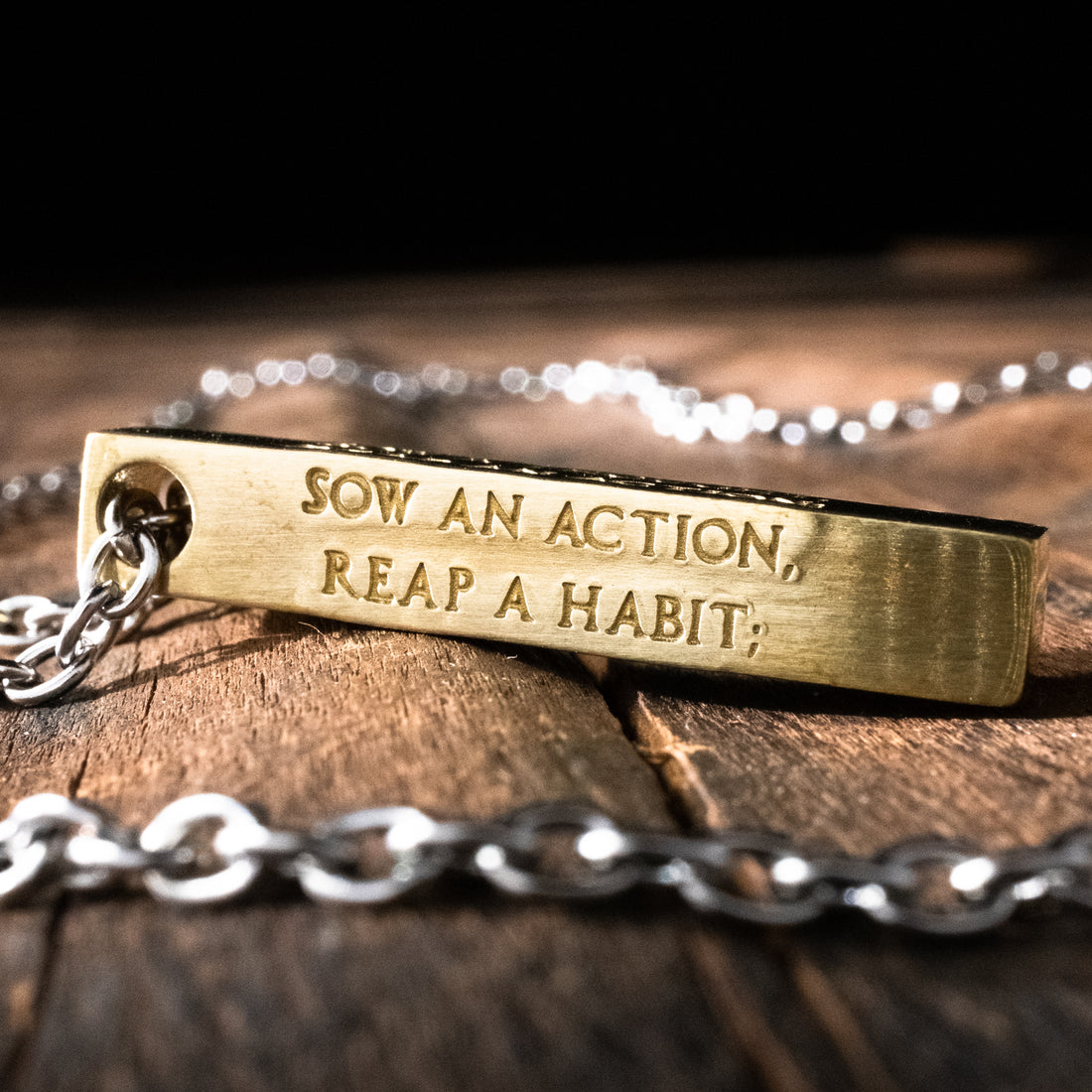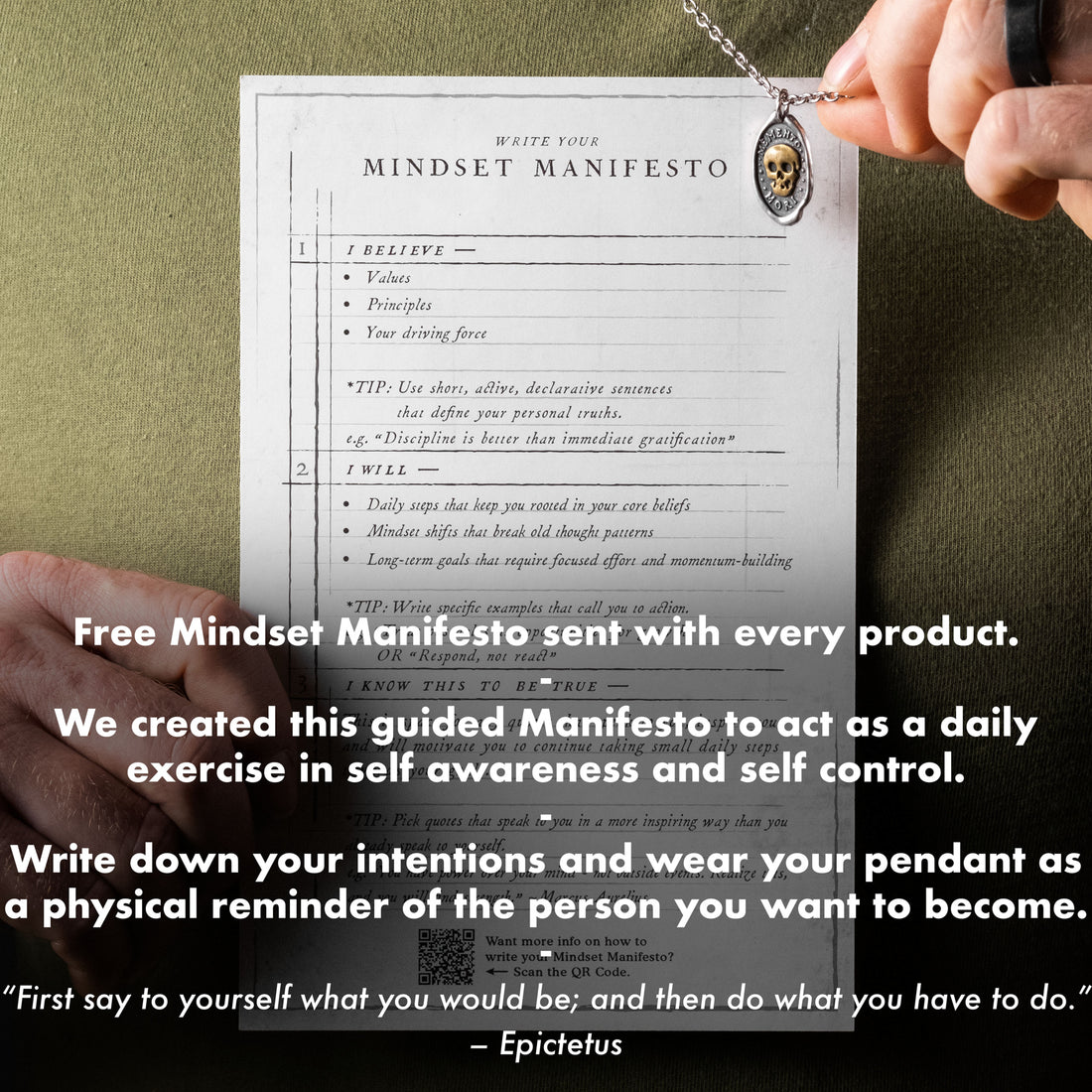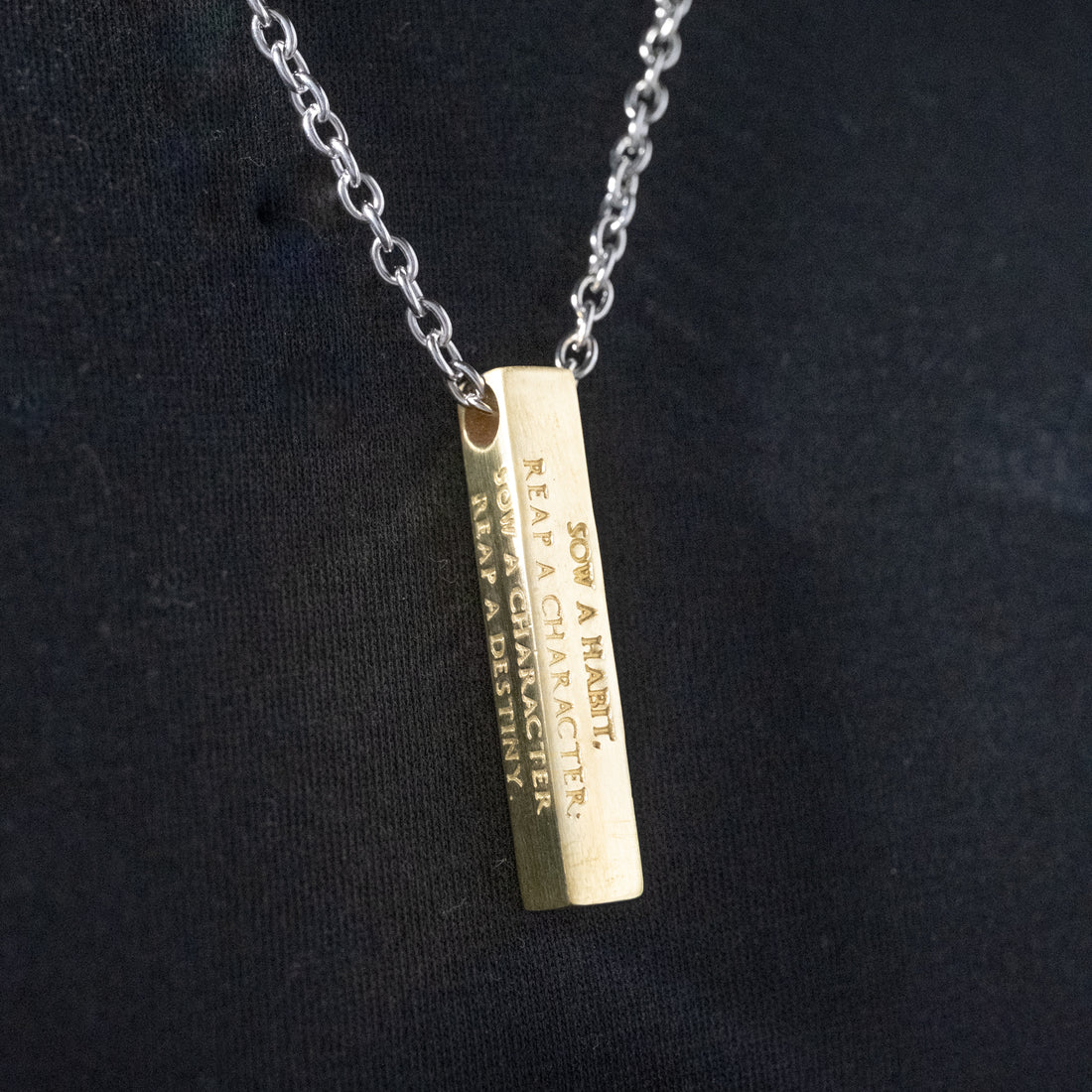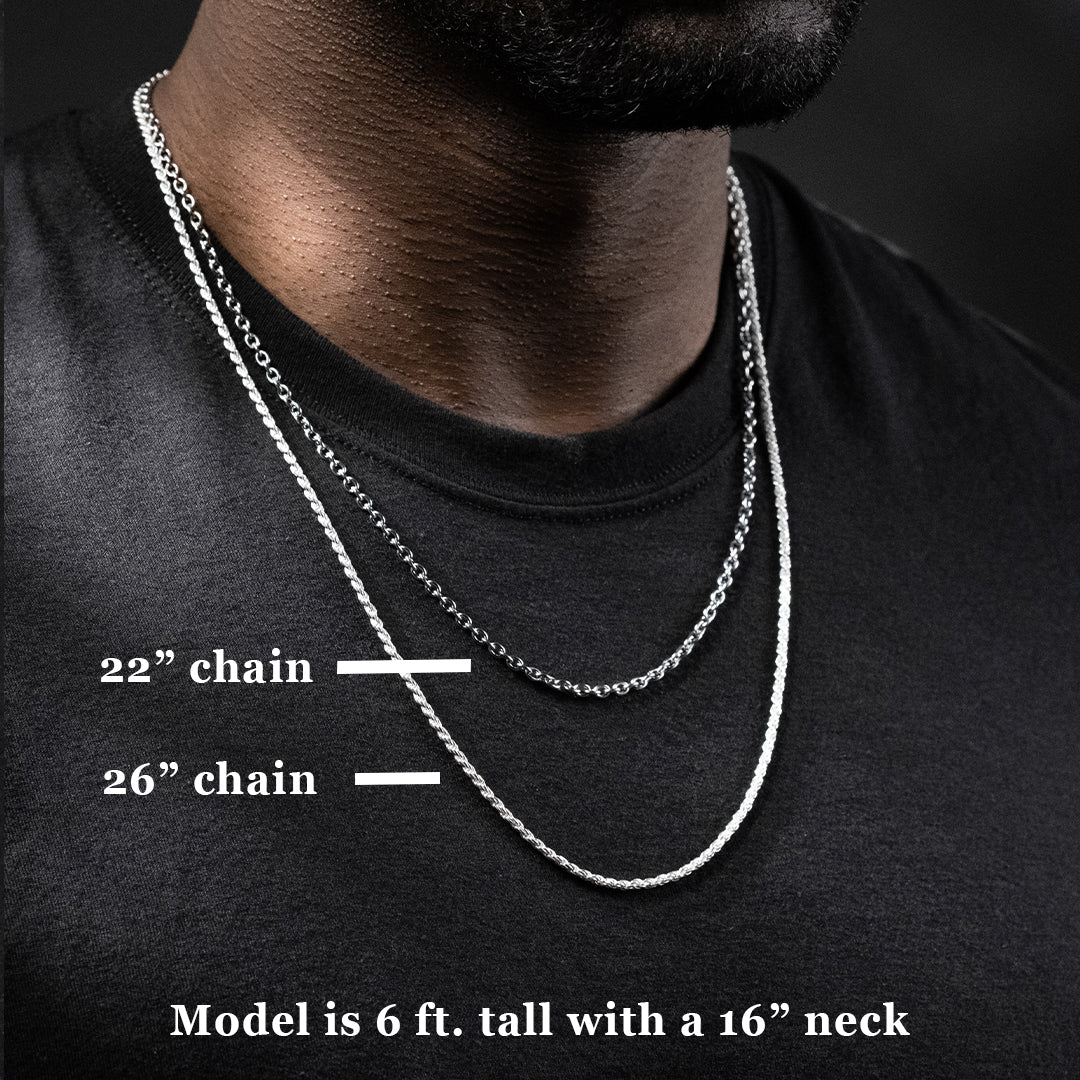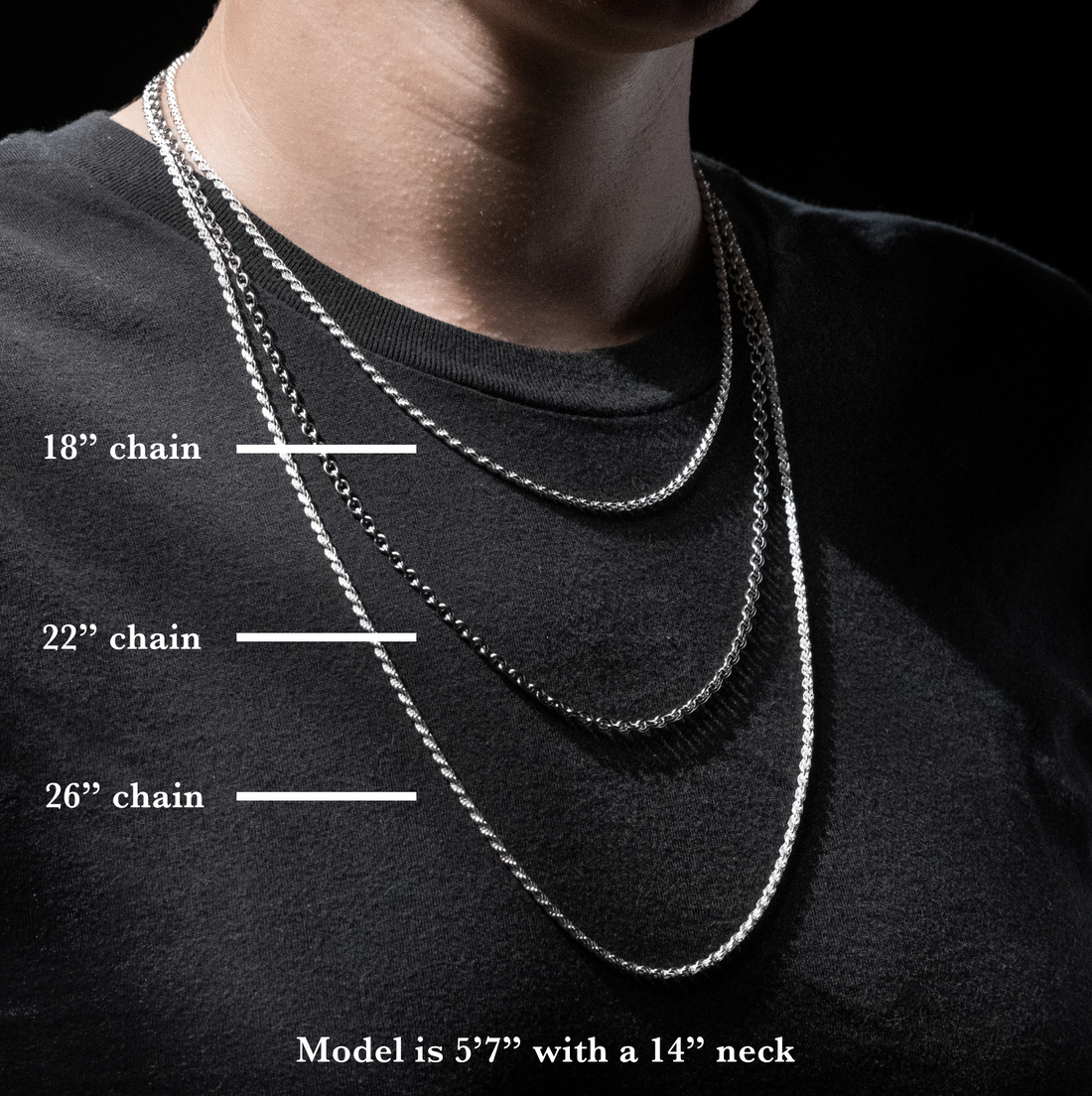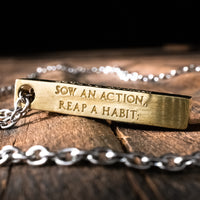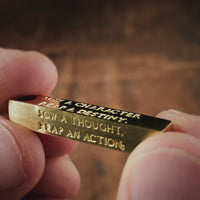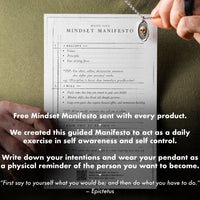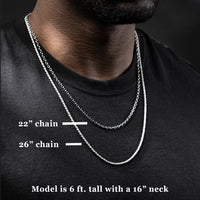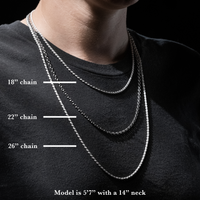 -Every product is covered by our LIFETIME WARRANTY
-Handmade in the USA
-Fast Shipping
BECOME MORE SELF-AWARE AND FOCUSED IN 30 SECONDS
"I didn't realize how powerful my mindset could be. The pendants and Mindset Manifesto are daily tools I now use to keep me focused on what I value most in life and the better version of myself I am becoming."
Hand-crafted from start to finish, this brass block pendant features a quote by Ralph Waldo Emerson stamped across all 4 sides. 
Side 1: "We sow a thought and reap an act"
Side 2: "We sow an act and reap a habit"
Side 3: "We sow a habit and reap a character"
Side 4: "We sow a character and reap a destiny" 
We feel that this quote aligns with our ethos of shifting your mindset and becoming intentional in every aspect of life. Emerson clearly lays out the chain reaction of seemingly simple moments and shows how our thoughts truly shape our destiny. Use this quote as a mantra to remind you of the importance of sowing carefully so you can reap bountifully.
The pendant's pleasant weight against your chest will provide a constant nudge to live out this ideal.
- Pendant measures 1.5" x 0.25" x 0.25"

-Each pendant is hand finished giving every pendant a unique, one-of-a-kind look.

If you are unsure about which chain length to order, please read our suggestions on the FAQ page.

Please note: All our brass pendants are raw brass, meaning they are not electroplated and will develop a beautiful patina over time. We recommend polishing it with a soft cloth to help keep your pendant's original shine if you prefer the bright metal look.
1.) Choose a pendant that speaks to you and will spark positive action in your life.
2.) Fill out your free guided Mindset Manifesto to figure out what is important to you in life and the type of behavior shifts you want to focus on every day.
3.) Read your personal manifesto every morning and wear your memento pendant daily as a physical reminder of your newly found direction.
RESPOND > REACT
Mindset Manifesto
How to use your pendant to create positive change in your life.