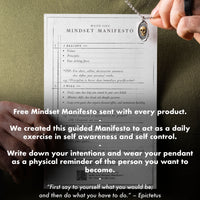 -Every product is covered by our LIFETIME WARRANTY
-Handmade in the USA
-Fast Shipping
BECOME MORE SELF-AWARE AND FOCUSED IN 30 SECONDS
"I didn't realize how powerful my mindset could be. The pendants and Mindset Manifesto are daily tools I now use to keep me focused on what I value most in life and the better version of myself I am becoming."
Hand-crafted from start to finish, this brass coin pendant features the phrase "No matter how rough the sea, I refuse to sink" around the edge of the coin with the words "SINK" and "SWIM" mirrored over a rope tied in a figure-eight knot.
We've all been thrown in the deep end of life at one point (or several). This pendant is meant to provide encouragement to just keep swimming - whether you are striking out strongly towards a goal or stability or merely keeping your head afloat, refuse to sink. You get to choose how to handle any situation you encounter, and the word "SWIM" is oriented to face the wearer as extra motivation to persevere and keep moving.
- Coin pendant is 1" in diameter.

Purchase this coin as a keychain instead of a necklace here.

If you are unsure about which chain length to order, please read our suggestions on the FAQ page.

Please note: All our brass pendants are raw brass, meaning they are not electroplated and will develop a beautiful patina over time. We recommend polishing it with a soft cloth to help keep your pendant's original shine if you prefer the bright metal look.
1.) Choose a pendant that speaks to you and will spark positive action in your life.
2.) Fill out your free guided Mindset Manifesto to figure out what is important to you in life and the type of behavior shifts you want to focus on every day.
3.) Read your personal manifesto every morning and wear your memento pendant daily as a physical reminder of your newly found direction.
RESPOND > REACT
Mindset Manifesto
How to use your pendant to create positive change in your life.
Customer Reviews
Write a Review
Ask a Question
Good quality & good prices
I'm very satisfied with the 3 necklaces & 3 pendants that I've purchased. They are my everyday go to jewelry & they carry a positive message. I'll definitely be shopping with Maritime Supply Co again in the near future.
11/22/2022
Autumn E.

United States
Great purchase!
I got this for my boyfriend for his birthday and HE LOVES IT. He has bought multiple necklaces from here. Great quality!
09/22/2022
Jason P.

United States