Maritime Supply Co
Double Sided Wax Seal Necklace - PER ASPERA AD ASTRA "Through Hardship To The Stars"
Included in our new 2021 Motivation collection.
PER ASPERA AD ASTRA means "Through hardship, to the stars." This pendant features half the phrase, PER ASPERA ("through hardship"), and a path through mountains with stars in the distance on one side, representing the hardships we must face. On the reverse side it features the other half of the phrase, AD ASTRA ("to the stars"), and the north star in full view, the goal having proven worth the journey.
We chose to include this piece in our 2021 collection because one thing the world can agree on is the fact that 2020 was full of hardship and difficulties. It is our hope that 2021 will hold stars for all of us, inasmuch as stars represent hope, light, beauty, and hardships overcome and good things achieved.
"Strength does not come from winning. Your struggles develop your strengths. When you go through hardships and decide not to surrender, that is strength." -Arnold Schwarzenegger
Pendant measures approximately 1.2" tall by 0.5" wide, and is .925 sterling silver, nickel-free.
Rolo and ball chains are nickel-free stainless steel. Rolo chain is 2.5mm thick.
Leather cord is sturdy and fully adjustable.
Customer Reviews
Write a Review
Ask a Question
absolutely fantastic
the quality of the necklace was honestly more then i was expecting and that should mean a lot coming from a dude who doesn't write reviews, i'd absolutely send some of my friends to this website if they ask me where i got it
04/08/2021
Doug W.

United States
Thank you
It was just what I wanted, Thank you for all the work you do. I have a daughter who has been diagnosed with Batten's Disease CLN3 so I ordered the necklace to wear for her. There is no cure for this disease and over the coming years will be extremely hard. It is great the work you do for children across the world. Thank you!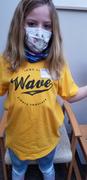 04/07/2021
Richard W.

United States