MEMENTO MORI - Brass Inlaid Skull
One of our most popular items, re-forged!
Hand-casted in the USA, this single-sided sterling wax seal pendant features the Latin words MEMENTO MORI with a brass-inlaid skull.

MEMENTO MORI means "Remember you will die." Let this side of the pendant remind you to live every day to its fullest potential, for we are not promised tomorrow - just as the phrase conveys, death is inevitable. This phrase and its imagery (usually a human skull) has been around since the medieval period with roots in classical antiquity and Christianity, but it is still just as relevant today. This is not a morbid message, but instead a positive reminder to make the most of every moment you are given, to recognize the opportunity in every day we wake up and keep breathing. How do you want to live life? To its fullest, or with regrets of joy undiscovered? Life is fleeting, so treasure every gift, and guide others to that same appreciation for life.


- Pendant
•Measures approximately 1.2" tall by 0.5" wide
•.925 sterling silver, nickel-free
•Inlaid brass skull
Customer Reviews
Write a Review
Ask a Question
05/30/2022
Dale S.

United States
A Timely Reminder!
This is my 4th piece from Maritime. (My first was the "Hold Fast" silver wax seal with the brass anchor.) I already had the all silver "Memento Mori/Memento Vivere" pendant and it took me a while to decide to try this new one — I wasn't at all sure I'd like it as much. But I'm finding that I do like it at LEAST as much as the other if not more! The workmanship and quality are exquisite, and this company's customer service is superb. Don't panic if you see this or the other skull pendant showing as "sold out", I've been assured that they're not "retiring" the original and that both will continue to be made available.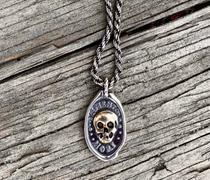 05/24/2022
Wesley W.

United States
Great necklace
High quality and great looking