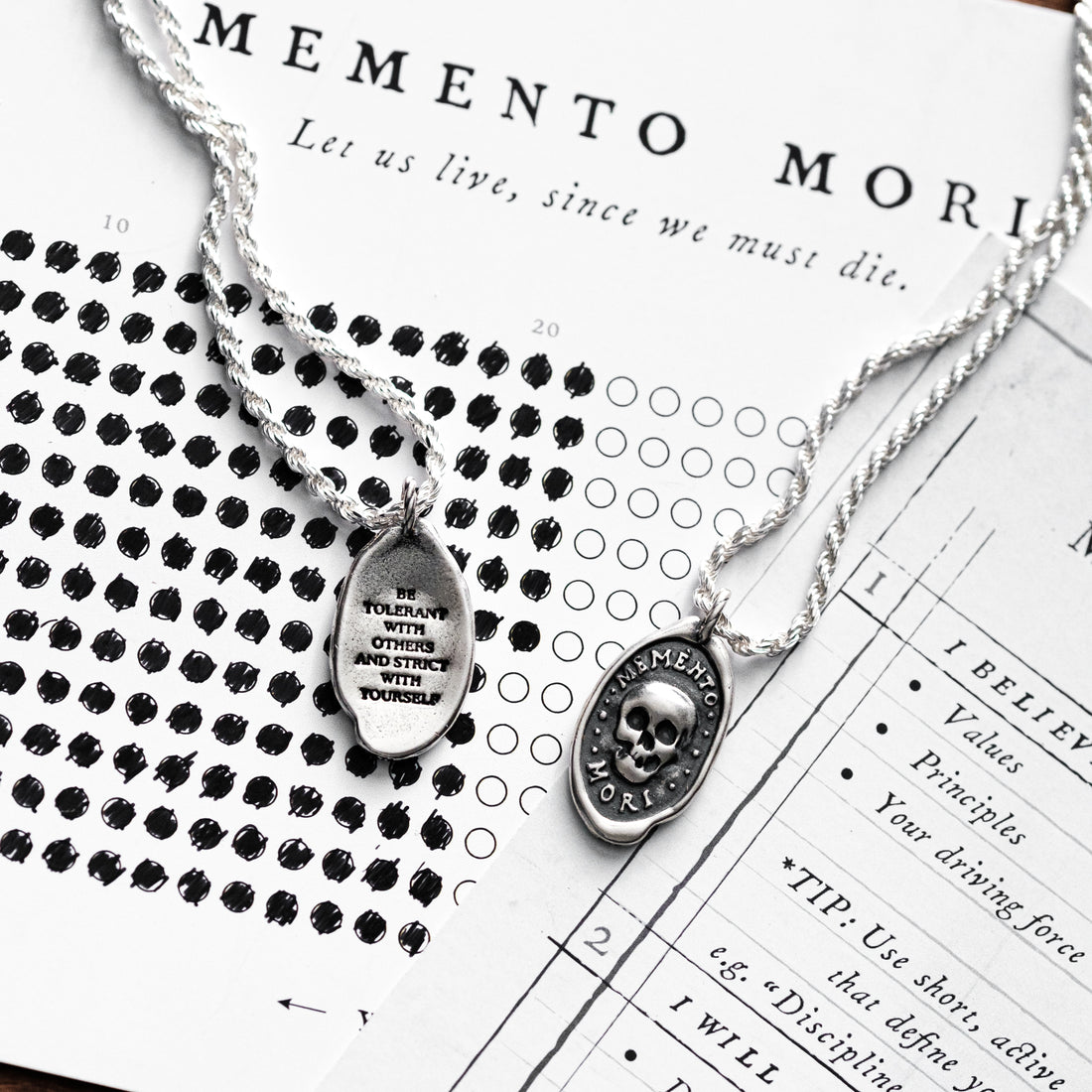 -Every product is covered by our LIFETIME WARRANTY
-Handmade in the USA
-Fast Shipping
BECOME MORE SELF-AWARE AND FOCUSED IN 30 SECONDS
"I didn't realize how powerful my mindset could be. The pendants and Mindset Manifesto are daily tools I now use to keep me focused on what I value most in life and the better version of myself I am becoming."
Printed in the USA, our Memento Mori calendars are based on the average human life expectancy of 80 years, with 40 years on the front of the card and 40 years on the back, measured in months.
Much in the same way that our Mindset Manifesto is a guide to intentionality and goal-setting, our Mori calendars are intended to be a mindset shift tool. Here's how to utilize it:
Set aside 30 minutes to fill out your calendar. 

Bubble in every month up until your current age (round down). 

Remember the months and years of your life as you fill out the calendar. 

Think about the good and the bad things that have occurred in your lifetime and choose to acknowledge all events as part of your story.

Once you have brought your calendar up-to-date, consider how much of your life you have left to live (according to average human life expectancy = 80 years).

This may be a sobering experience, but we want it to be hopeful as well. Look at how much time you have left to achieve your goals, go on adventures, and be with your loved ones!

Hang your calendar up under your Mindset Manifesto and fill in another bubble at the end of each month.
What is it you plan to do with your one wild and precious life? 
~Mary Oliver
-Calendar
•Measures approximately 5.5" by 8.5"
•Printed on cardstock, double-sided
-Included as a free gift with purchase of every Memento Mori product.

PLEASE NOTE: Purchase of calendar DOES NOT include a necklace.
1.) Choose a pendant that speaks to you and will spark positive action in your life.
2.) Fill out your free guided Mindset Manifesto to figure out what is important to you in life and the type of behavior shifts you want to focus on every day.
3.) Read your personal manifesto every morning and wear your memento pendant daily as a physical reminder of your newly found direction.
RESPOND > REACT
Mindset Manifesto
How to use your pendant to create positive change in your life.