Brass Coin Keychain Pendant - Choose A Motto
Hand-crafted from start to finish, this keychain serves as a small reminder to live out whichever motto resonates with you. While the keychain might not be kept as close to you as a necklace, we hope that the coin provides a key phrase to guide you through life.

Click on any of these links to see the design and read the explanation for each phrase:

•Acta Non Verba "Deeds Not Words"
•Doubt Kills More Dreams Quote "...than failure ever will"
•Dum Spiro Spero "While I Breathe, I Hope"
•Esse Quam Videri "To Be, Rather Than To Seem"
•Give A Damn
•Hold Fast
•I've Come So Far Quote "...I think I can run on just a little bit longer"
•Memento Mori "Remember You Will Die"
•Memento Vivere "Remember to Live"
•Per Aspera Ad Astra "Through Hardship, To The Stars"
•Per Ignem Renovatur Spes - 2021 "Through Fire, Hope Is Renewed"
•Sink Or Swim "No matter how rough the sea, I refuse to sink"
•Stay the Course
•Take to the Oars "When the wind fails, take to the oars"
•The Face of Mortality - Memento Mori with skull
•This Too Shall Pass
•We Are Waves "...from the same sea"
•Work Hard Stay Humble
•Yesterday NOW Tomorrow

We are not accepting custom orders at this time, and we are only offering flat brass coins for the keychain option.
- Brass coin on brass keychain ring
- Ring measures 0.5" in diameter

Please note: All our brass pendants are raw brass, meaning they are not electroplated and will develop a beautiful patina over time. We recommend polishing the coin with a soft cloth to help keep your keychain's original shine if you choose to do so.
Customer Reviews
Write a Review
Ask a Question
Positive daily reminder
I have one of the necklaces now with 4 separate coins. My wife is battling cancer, and when I put on my necklace every morning it's a reminder that I can take the next step. I love all the products I've purchased.
12/27/2021
Chuck S.

United States
Wonderful Encouragement
I'd been looking at the brass coin with the expression, "I've come so far, I think I can run on just a little bit longer". Not long ago I found out my prostate cancer had returned and was at best maybe controllable for a while, but not curable. This little coin sits on my keychain beside a star knot rope my son made for me, and it reminds me to be thankful for each day, and to keep going until the end. Thank you for your wonderful service, and for the little boat, which sits proudly with my "companions" on top of my desk.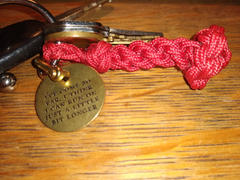 12/16/2021
andrew s.

United States
Awesome quality
Great buying experience. Had a litte issue with my order problem was resolved very quickly. Great quality. I will definitely continuw to buy from maritime supply co!