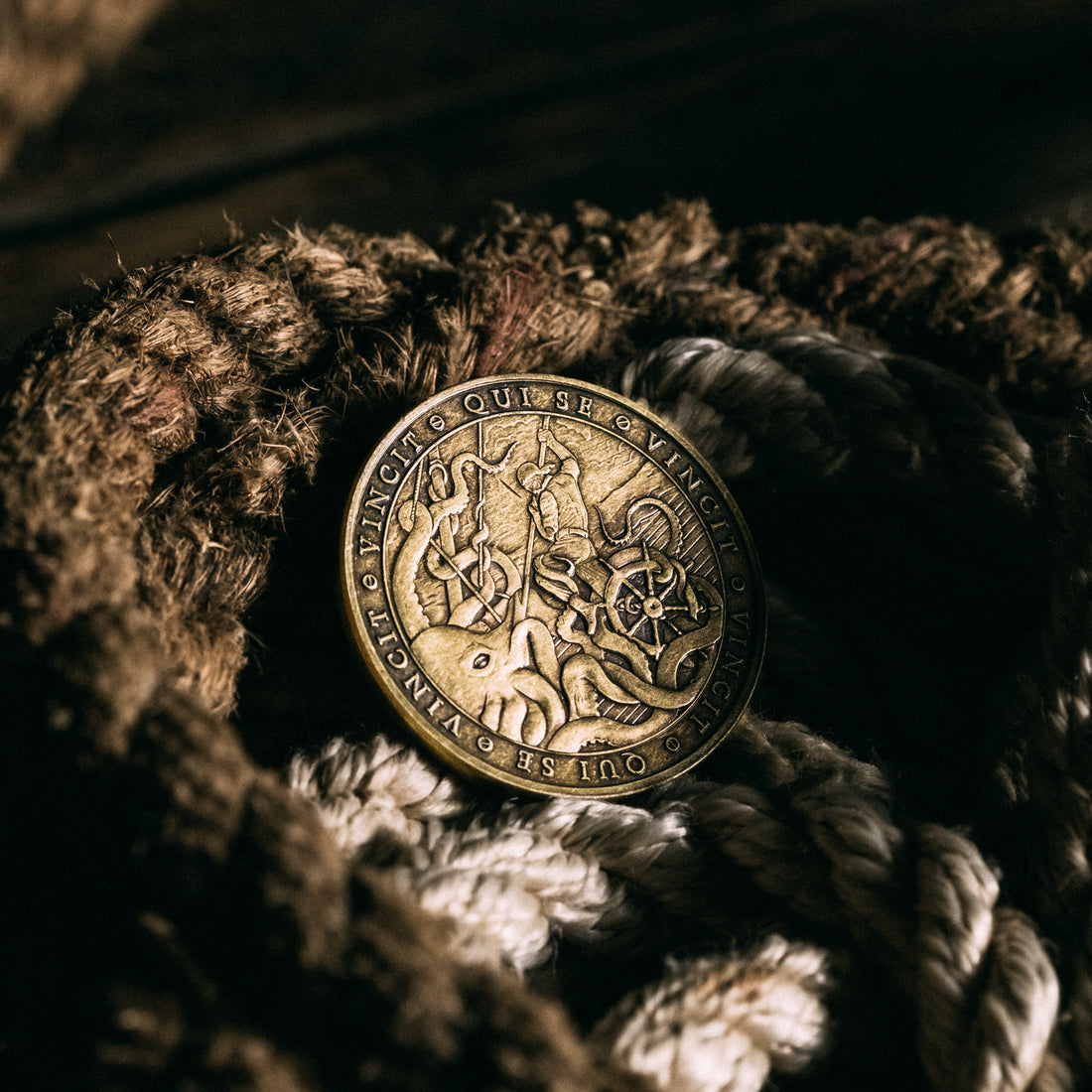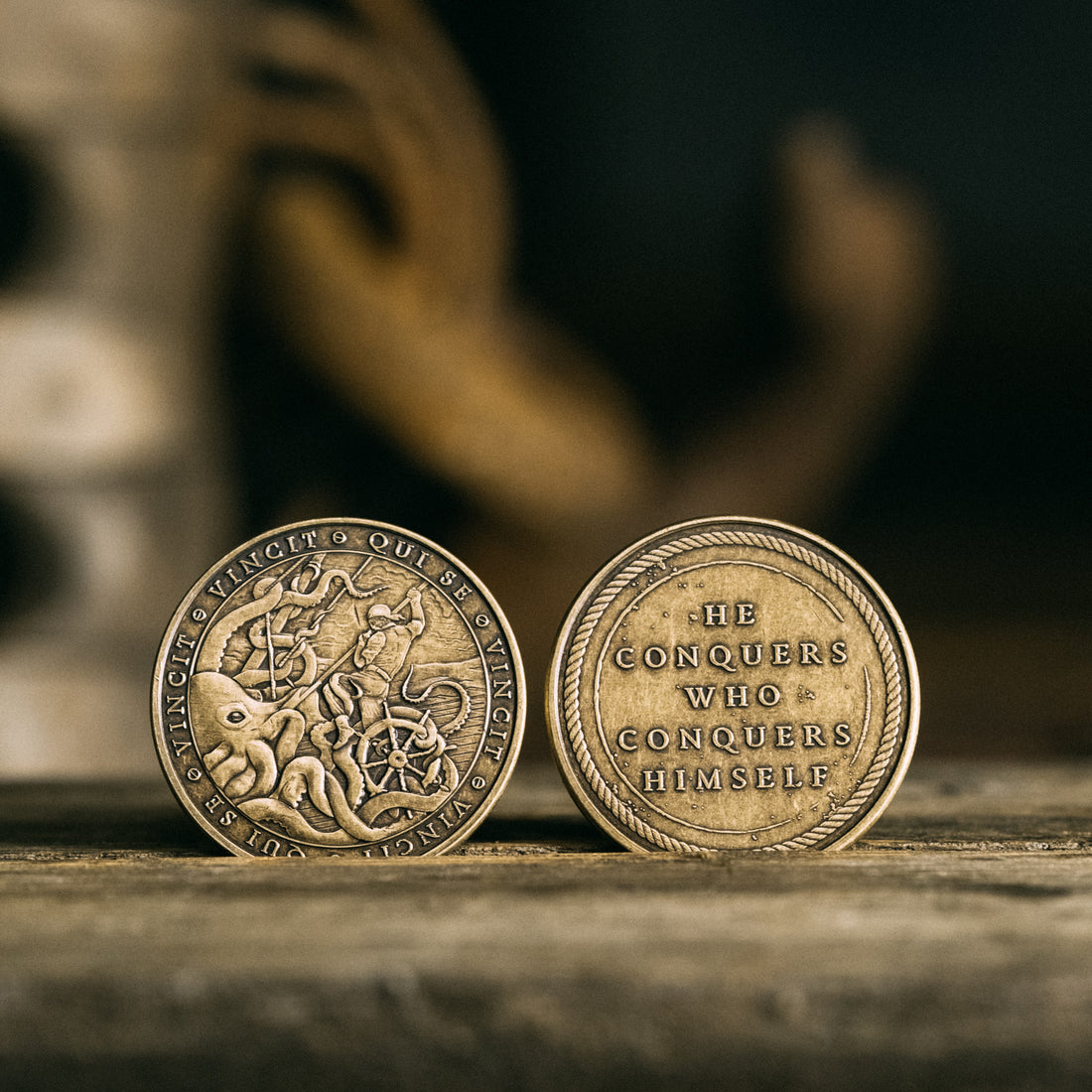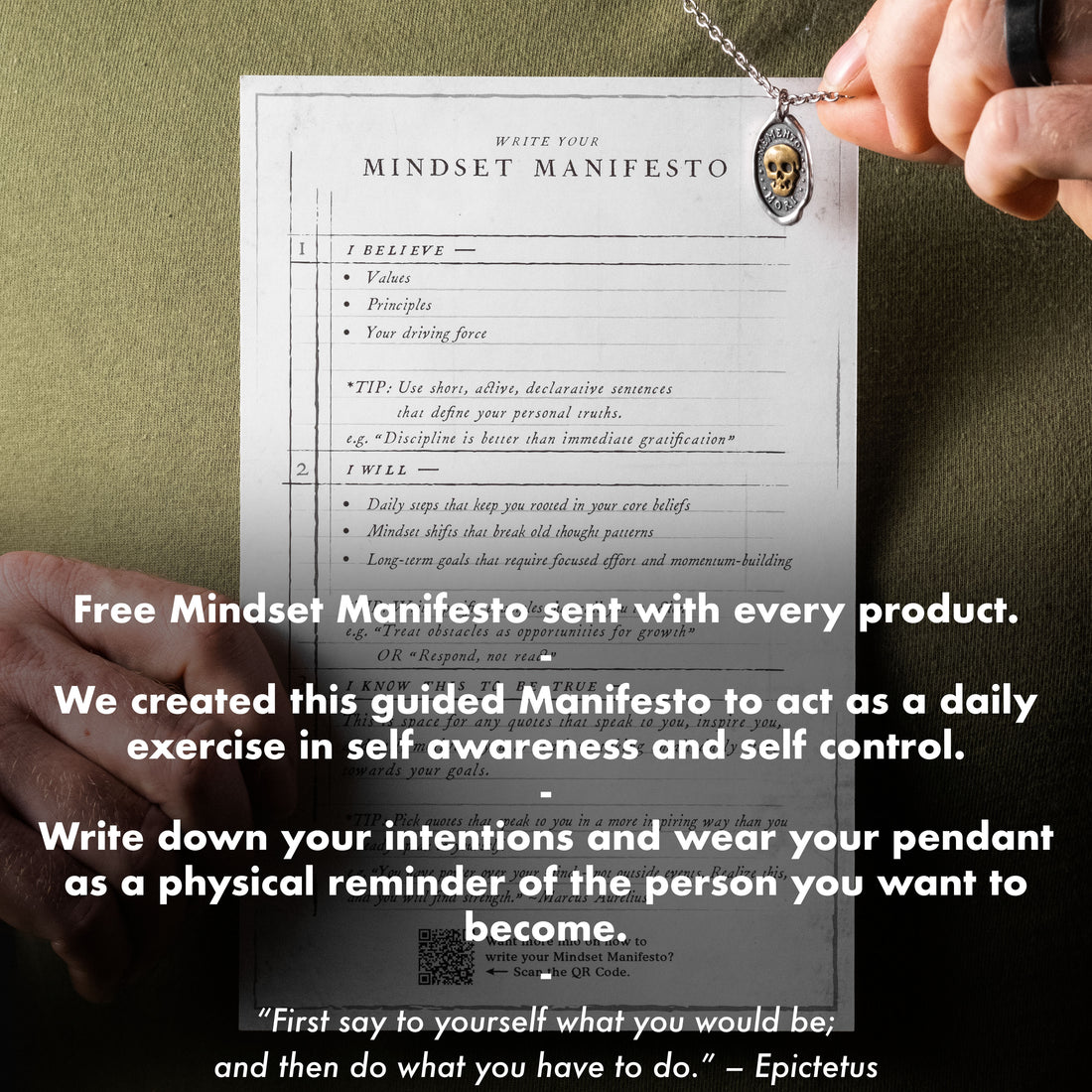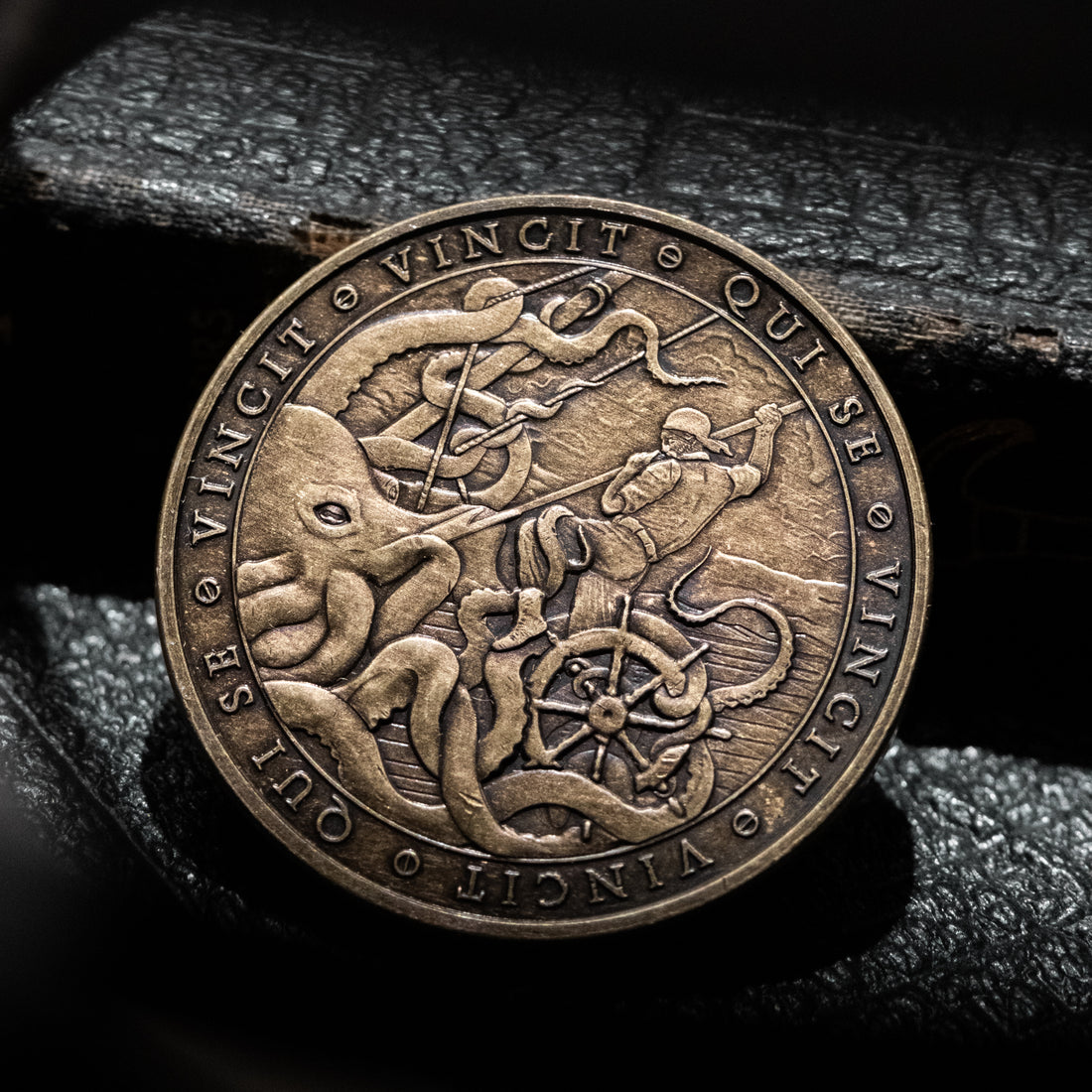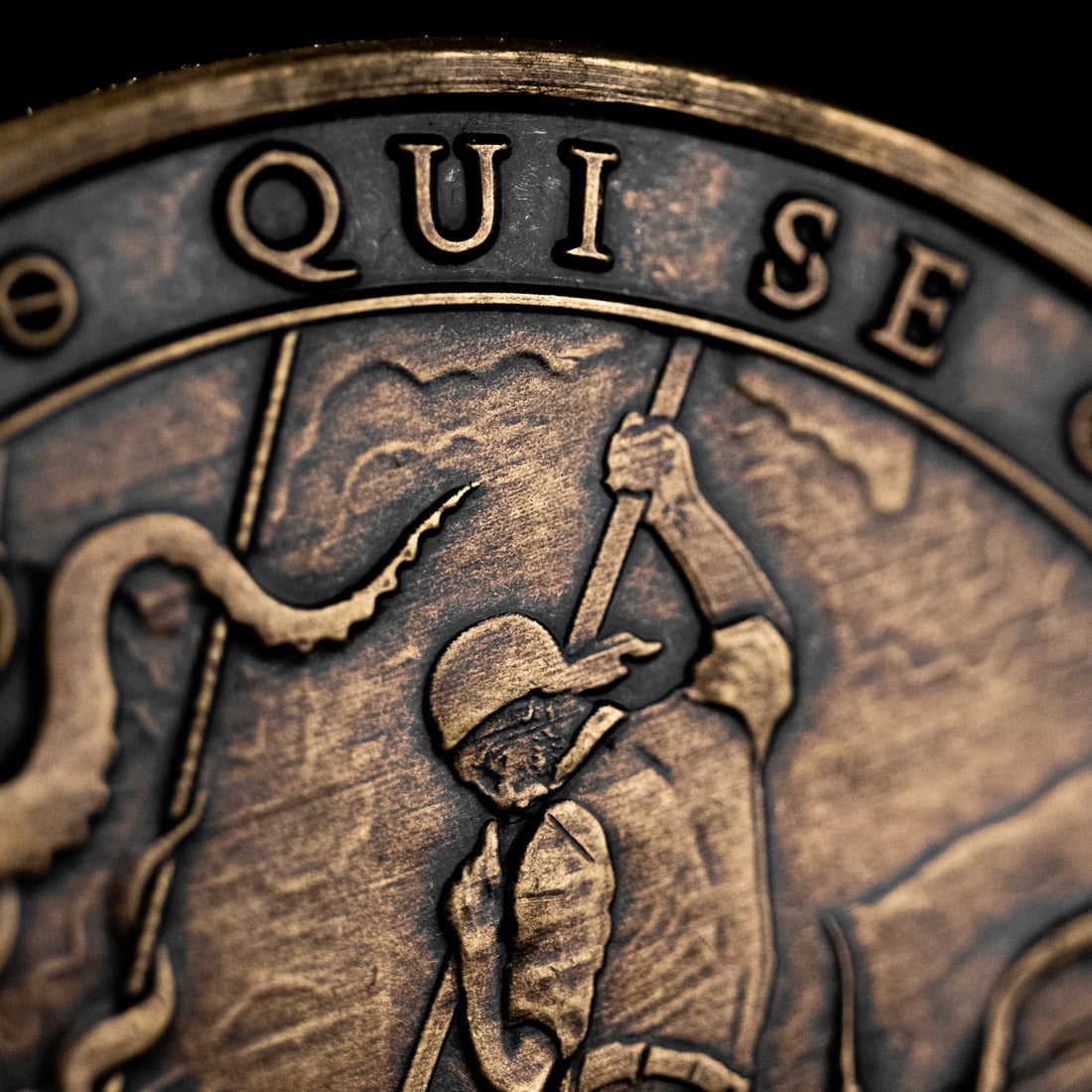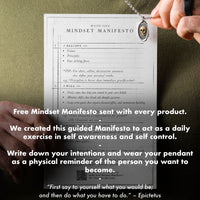 VINCIT QUI SE VINCIT EDC Coin
LIFETIME WARRANTY
MADE IN U.S.A
FAST SHIPPING
The ONLY U.S.A. made premium jewelry brand
Hand-crafted from start to finish, the front of this solid brass coin features an engraved nautical scene with the Latin phrase VINCIT QUI SE VINCIT around the edge of the artwork, which translates to "He conquers who conquers himself," which is stamped on the back of the pendant.
The nautical scene depicts a sailor fending off a giant octopus with a harpoon as the octopus attacks the ship. In this example, the sailor has the strength and determination to defeat the octopus only because he has already proven his own worth and ability to himself by surviving life on the sea this long.
A different iteration of the Latin phrase is "bis vincit qui se vincit," which translates to "he (she) who prevails over himself (herself) is twice victorious." This could be taken to mean that if you have successfully trained yourself to reject a fearful nature and instead go forward with goodwill and courage, then that is one major battle already won and you are much more likely to succeed in the next external conflict you face. Choose to see adversity as an opportunity to overcome!
- Coin
•39mm in diameter by 3mm thick
•Weighs 26 grams
•Solid antique brass with protective coating
- Vinyl sticker
•Circular Vincit Qui Se Vincit original design in color

- Peel the backing off of the sticker and apply firmly to clean, dry surface.
- Vinyl sticker location suggestions: water bottles, phone cases, laptops, cars

Do you strive for daily self-improvement? Are you eager to cultivate a Growth Mindset?
Embark on a transformative journey with our NO-COST 30-day Mindset Shift Challenge: Experience profound changes in your perspective through the contemplation of your mortality, defining your WHY in life, and integrating daily practices that will help keep your focus on what truly matters in life.
The daily reminder you didn't know you needed...
Stoic Wisdom + American Craftsmanship
- EMBODY YOUR ETHOS -
RESPOND > REACT
Mindset Manifesto
How to use your pendant to create positive change in your life.
Customer Reviews
Write a Review
Ask a Question
Quality coin with a great message!
I couldn't be happier with this coin from Maritime. From the packaging and presentation-and the "extra's", all top notch and above my expectation!
01/14/2023
James K.

United States
He Conquers
Great design, great message; got this as a gift for a bud, and he enjoyed it thoroughly. Thanks!
11/26/2022
Bill S.

United States
VINCIT QUI SE VINCIT EDC COIN
Beautifully made. Good relief, daily motivation reminder.