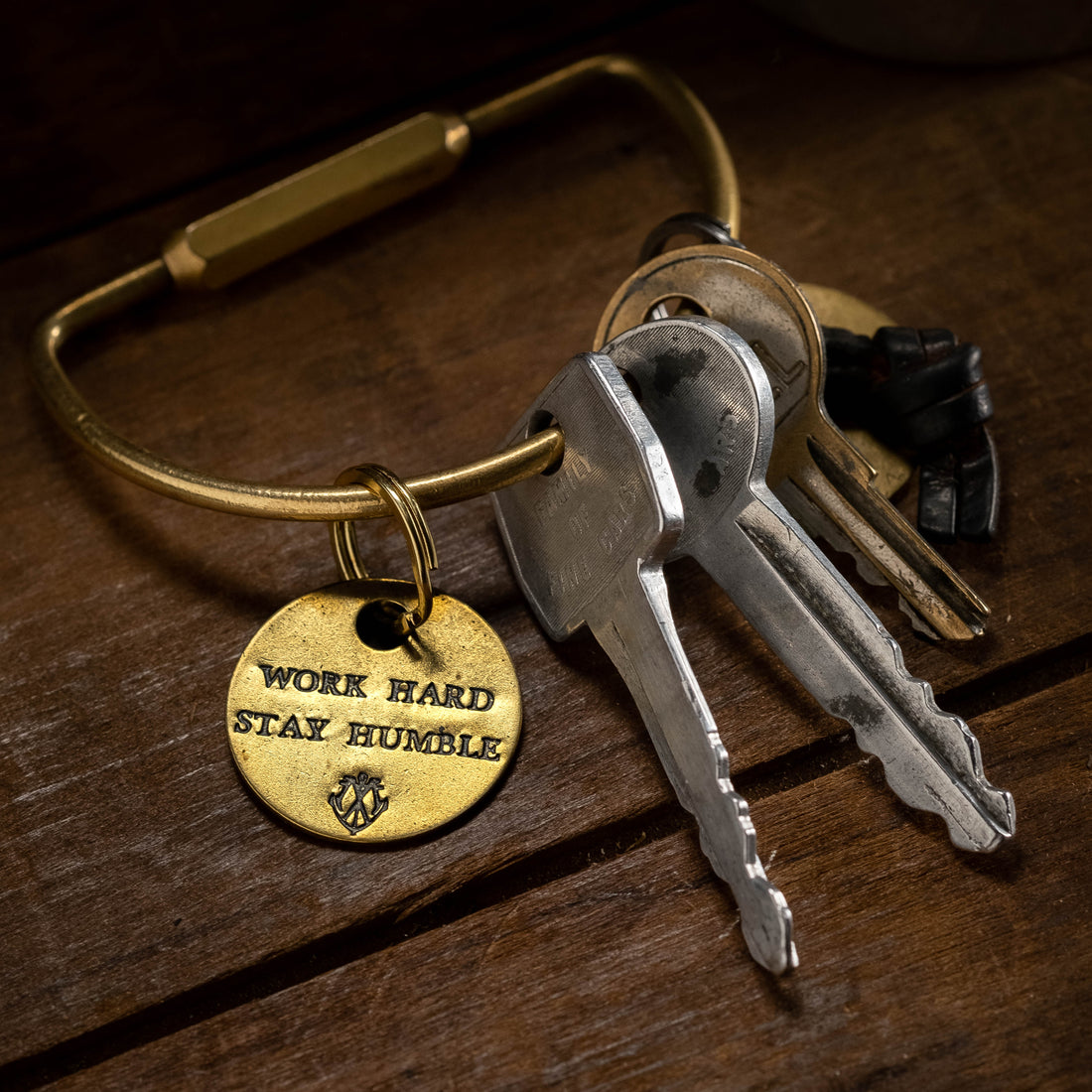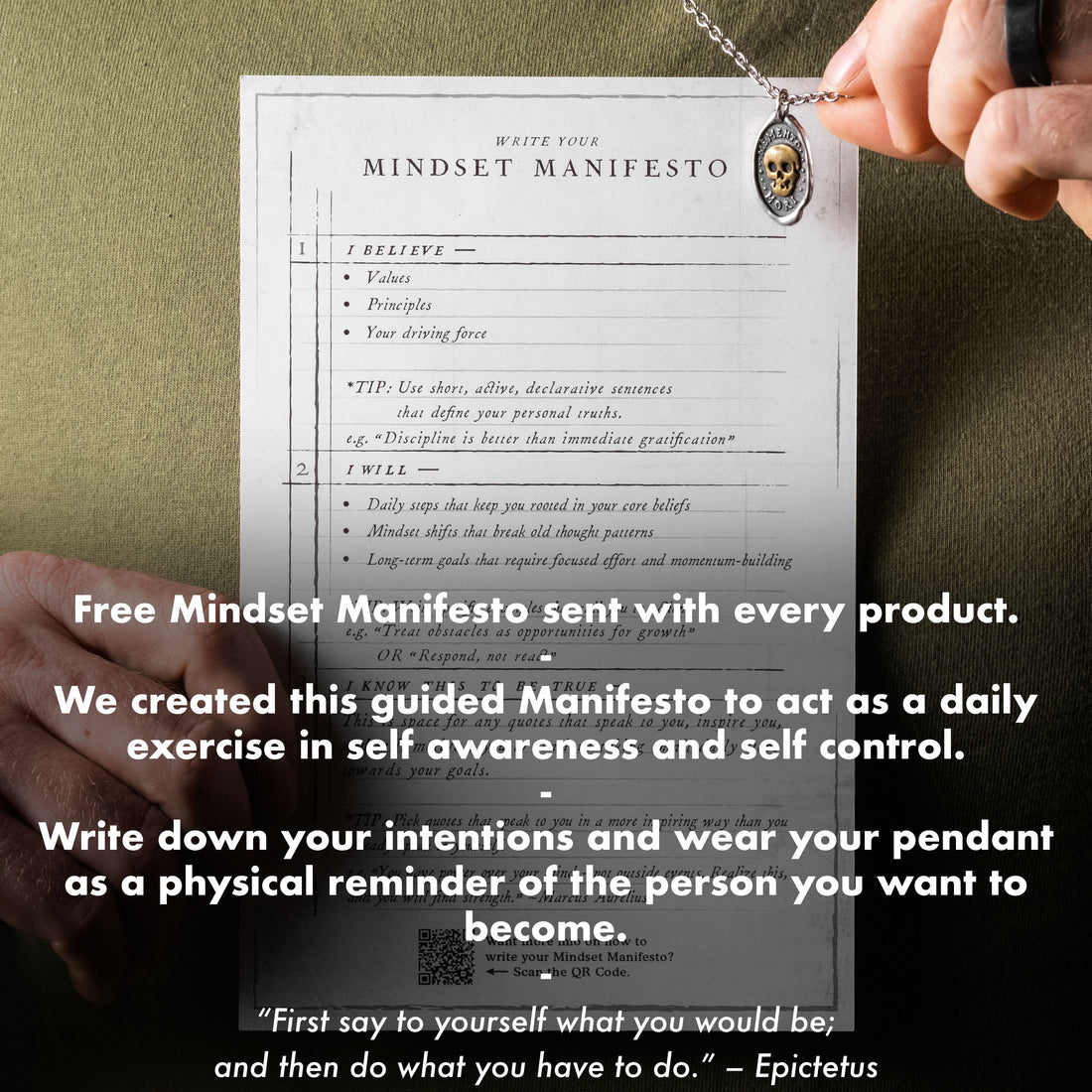 Brass Coin Keychain Pendant - Choose A Motto
-Every product is covered by our LIFETIME WARRANTY
-Handmade in the USA
-Fast Shipping
BECOME MORE SELF-AWARE AND FOCUSED IN 30 SECONDS
"I didn't realize how powerful my mindset could be. The pendants and Mindset Manifesto are daily tools I now use to keep me focused on what I value most in life and the better version of myself I am becoming."
Hand-crafted from start to finish, this keychain serves as a small reminder to live out whichever motto resonates with you. While the keychain might not be kept as close to you as a necklace, we hope that the coin provides a key phrase to guide you through life.

Click on any of these links to see the design and read the explanation for each phrase:

•Acta Non Verba "Deeds Not Words"
•Change Is Key "If you want to become who you've never been, you'll have to do what you've never done."
•Dum Spiro Spero "While I Breathe, I Hope"
•I've Come So Far Quote "...I think I can run on just a little bit longer"
•Memento Mori "Remember You Will Die"
•Memento Vivere "Remember to Live"
•Non Progredi Est Regredi - 2022 "No Progress Means Regression"
•Per Aspera Ad Astra "Through Hardship, To The Stars"
•Sink Or Swim "No matter how rough the sea, I refuse to sink"
•Stay the Course
•The Face of Mortality - Memento Mori with skull
•Work Hard Stay Humble
We are not accepting custom orders at this time, and we are only offering flat brass coins for the keychain option.
Note: Some of the phrases pictured have been discontinued. If the motto does not appear in the dropdown menu, it is no longer available.
- Brass coin on brass keychain ring
- Ring measures 0.5" in diameter

Please note: All our brass pendants are raw brass, meaning they are not electroplated and will develop a beautiful patina over time. We recommend polishing the coin with a soft cloth to help keep your keychain's original shine if you choose to do so.
1.) Choose a pendant that speaks to you and will spark positive action in your life.
2.) Fill out your free guided Mindset Manifesto to figure out what is important to you in life and the type of behavior shifts you want to focus on every day.
3.) Read your personal manifesto every morning and wear your memento pendant daily as a physical reminder of your newly found direction.
RESPOND > REACT
Mindset Manifesto
How to use your pendant to create positive change in your life.
Customer Reviews
Write a Review
Ask a Question
Filter Reviews:
The Stars
struggle
Hardship
Memento Vivere&quot
someone
Astra&quot
birthday
experience
team
delivery
06/23/2023
Sandra L.

United States
I'm Still Standing!
I purchased "Per Aspera Ad Astra" and "Memento Vivere". Both reminding me that Through Hardship one reaches The Stars and I have to Remember to Live, not waste my life because alas it is very short. As someone who is chronically ill, every day is both a struggle and a gift. These pendants are perfect in size and I already have them on a necklace. I hope to purchase more. My 62nd birthday is next month. What a wonderful way to celebrate the gift of life!
04/21/2023
Shawn J.

United States
04/04/2023
Brian R.

United States