Maritime Supply Co
SKILLED SAILOR - Brass Tag Necklace
"A smooth sea never made a skilled sailor." ~Franklin D. Roosevelt
To us, this quote addresses the inevitable hardships that we face in life and how enduring them and learning from them gives us skills to weather the next storm that comes our way. A smooth sea can be helpful for initial training in basics and concepts, but how well lessons were learned are truly proven when push comes to shove.
This pendant is meant to serve as a reminder to learn and grow through the difficulties of life, and its pleasant weight against your chest will provide a constant nudge to live out this ideal.
The dog tag shape is a nod to the dog tags that our military wear and all of the hardships that they face and endure.
Please note: All our brass pendants are raw brass, meaning they are not electroplated and will develop a beautiful patina over time. We recommend polishing it with a soft cloth to help keep your pendant's original shine if you prefer the bright metal look.
Customer Reviews
Write a Review
Ask a Question
02/02/2021
Wallace G.

United States
Totally Satisfied
Great product, delivery and price. Was genuinely pleased with the quality of everything.
01/26/2021
Mostafa A.

United Kingdom
Amazing international service
My husband and I found this necklace online and thought the price was reasonable so ordered to the UK. Within 4-5 days of ordering from the US we had received our item, perfectly packaged and with zero issues. The necklace looks exactly as in the image and comes in a cute little protective keepsake bag. 5/5 would recommend.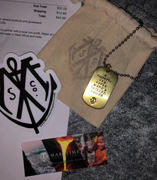 01/10/2021
Rob M.

United States
Awesome service and product
These are great! I bought these as gifts for a military group and they were a smash hit!