Maritime Supply Co
SKILLED SAILOR Quote - Brass Tag Necklace
"A smooth sea never made a skilled sailor." ~Franklin D. Roosevelt
To us, this quote addresses the inevitable hardships that we face in life and how enduring them and learning from them gives us skills to weather the next storm that comes our way. A smooth sea can be helpful for initial training in basics and concepts, but how well lessons were learned are truly proven when push comes to shove.
This pendant is meant to serve as a reminder to learn and grow through the difficulties of life, and its pleasant weight against your chest will provide a constant nudge to live out this ideal.
The dog tag shape is a nod to the dog tags that our military wear and all of the hardships that they face and endure.
Brass tag measurements

1.5" tall by .85" wide

1mm thick
If you are unsure about which chain length to order, please read our suggestions on the FAQ page.
Please note: All our brass pendants are raw brass, meaning they are not electroplated and will develop a beautiful patina over time. We recommend polishing it with a soft cloth to help keep your pendant's original shine if you prefer the bright metal look.
GUARANTEED QUALITY
All of our customers are part of our crew, and we take care of our own. If you have any issues with your order, we will do everything we can to fix the problem.
"Quality means doing it right when no one is looking." ~Henry Ford
QUALITY PAY FOR QUALITY WORK
Here at Maritime, we work hard to create an ethical work environment. With such a small staff, it is crucial that everyone feel valued and heard in the role they play in company structure. Our price points directly reflect the amount of effort, creativity, and hard work that go into each piece, and proceeds contribute to a living wage for our team.
WATER IS LIFE
Your purchase helps provide clean water in developing countries! We give 10% of our net profits to help dig wells in India and Africa. Learn more about SFA's Water of Life Initiative here.
Customer Reviews
Write a Review
Ask a Question
05/31/2021
Sam K.

United States
Great quality
Great value and sturdy
05/15/2021
Dean F.

United States
Better Than Expected
Initially when I found Maritime Supply I instantly liked the products and designs, but was apprehensive because of the low prices I thought the product would be cheaply made. It is not. Very impressed with the product, came in a awesome carrying bag, and was at my doorstep the same week. Couldn't be happier with the purchase and Maritime Supply's ongoing efforts to helping the water conditions in the world. They definitely have a repeat customer in me. Wish I could give more stars than 5.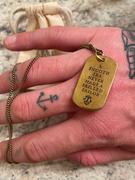 04/07/2021
James M.

United States
Quality Crafted Jewelry
The chain and pendant are amazing! I wear it every day and have received many compliments on the unique piece of jewelry. Customer service was also great, and I loved the little gifts that came with my package!