Maritime Supply Co
PERSEVERE - Brass Block Necklace
Part of our 2021 Motivation collection.
Hand-crafted from start to finish, this brass block pendant features the word PERSEVERE, which is defined by the Merriam-Webster dictionary as a verb meaning "to persist in a state, enterprise, or undertaking in spite of counter influences, opposition, or discouragement."
We feel that the reasons behind this piece's inclusion in the 2021 collection are pretty self-explanatory, and we enjoy reminders and mottos that are short, sweet, and to the point. We hope that it provides encouragement through the new year in general, through any personal endeavors you choose to undertake, and the goals you aim for in the years to come.
The pendant's pleasant weight against your chest will provide a constant nudge to live out this ideal.
Pendant measures 1.5" x 0.25" x 0.25"
If you are unsure about which chain length to order, please read our suggestions on the FAQ page.
If you would prefer this pendant on a leather cord instead of a chain, you can find that here.
Please note: All our brass pendants are raw brass, meaning they are not electroplated and will develop a beautiful patina over time. We recommend polishing it with a soft cloth to help keep your pendant's original shine if you prefer the bright metal look.
GUARANTEED QUALITY
All of our customers are part of our crew, and we take care of our own. If you have any issues with your order, we will do everything we can to fix the problem.
"Quality means doing it right when no one is looking." ~Henry Ford
QUALITY PAY FOR QUALITY WORK
Here at Maritime, we work hard to create an ethical work environment. With such a small staff, it is crucial that everyone feel valued and heard in the role they play in company structure. Our price points directly reflect the amount of effort, creativity, and hard work that go into each piece, and proceeds contribute to a living wage for our team.
WATER IS LIFE
Your purchase helps provide clean water in developing countries! We give 10% of our net profits to help dig wells in India and Africa. Learn more about SFA's Water of Life Initiative here.
Customer Reviews
Write a Review
Ask a Question
07/28/2021
Devin W.

United States
Low Quality
I received this item last week and upon opening it, I loved it I thought it stood out and was very impressed. Now less than a week into wearing my girlfriend informed me that it has turned my neck completely green in the back and had stained my skin. I thought this was high quality and wouldn't have this issue but I unfortunately did. This will now be put into the drawer or items to never be worn again. I wish that I could attach a photo to show the significance of how much it stained my neck.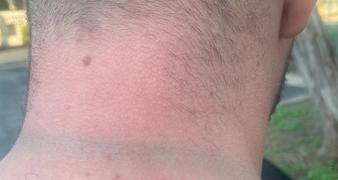 07/11/2021
Chaz C.

United States
Great piece - Should have got longer necklace.
The necklace was great. The 22 inch chain is to short for my big neck. Big guys buy a longer necklace.
06/22/2021
Shane C.

United States
Persevere Block
Really like this piece. Combined it with the brass shackle from a previous buy and I really like the natural weathering. Great solid piece.