Maritime Supply Co
AMOR VINCIT OMNIA "Love Conquers All" - Infinity Knot Brass Coin Necklace - Custom Initials
Create a custom necklace with your significant other's and your own initials, or the initials of two loved ones in your life. 
Hand-crafted from start to finish, this stamped coin features the Latin phrase AMOR VINCIT OMNIA, which means "Love conquers all," framing a piece of nautical rope forming an infinity sign. 
The infinity sign speaks to the hope that once found, love will be everlasting.
The phrase AMOR VINCIT OMNIA was perhaps made most famous by the Italian Baroque artist Caravaggio and his painting of the same title. The painting depicts a brazen Cupid, the Roman god of love, knocking over many symbols of human endeavors and civilization, offering the commentary that art, war, music, and exploration pale in comparison to the pursuit (or possession) of love.
However, the Roman poet Virgil is credited with first coining the phrase, and he said it best: "Omnia vincit amor: et nos cedamus amori" ("Love conquers all; let us, too, yield to love!")
Initials are hand-stamped inside each half of the infinity knot. 

Coin pendant is 1" in diameter.
If you are unsure about which chain length to order, please read our suggestions on the FAQ page.
Please note: All our brass pendants are raw brass, meaning they are not electroplated and will develop a beautiful patina over time. We recommend polishing it with a soft cloth to help keep your pendant's original shine if you prefer the bright metal look.
All custom-stamped coins come in our gold foil embossed gift boxes!
PLEASE NOTE: We cannot accept returns on custom items

GUARANTEED QUALITY
All of our customers are part of our crew, and we take care of our own. If you have any issues with your order, we will do everything we can to fix the problem.
"Quality means doing it right when no one is looking." ~Henry Ford
QUALITY PAY FOR QUALITY WORK
Here at Maritime, we work hard to create an ethical work environment. With such a small staff, it is crucial that everyone feel valued and heard in the role they play in company structure. Our price points directly reflect the amount of effort, creativity, and hard work that go into each piece, and proceeds contribute to a living wage for our team.
WATER IS LIFE
Your purchase helps provide clean water in developing countries! We give 10% of our net profits to help dig wells in India and Africa. Learn more about SFA's Water of Life Initiative here.
Customer Reviews
Write a Review
Ask a Question
06/08/2021
Allie S.

United States
Nice enough
This is a beautiful piece I bought for my boyfriend but the custom initials did not come colored and they were just stand which I was kind of disappointed about. They are hard to see which is unfortunate
05/09/2021
Jordan G.

United States
Love the idea and design
So I love the idea but the quality is just OK. Could be a little bit smoother engraving the whole or the necklace goes in actually show some discoloration from where they punched the hole into the coin. Really wanted to give this company a five star because I love the designs. I may give them one more chance and pick another type of necklace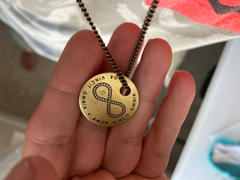 04/30/2020
Dalton I.

United States
Wife loves it
I purchased this for my wife's birthday and she loves it. I'm happy with the quality of the materials because my wife is sensitive to metals and has had no reaction at all. Quality product and a quality company!