Maritime Supply Co
Sterling Silver Anchor Necklace & Double-Sided CARPE DIEM/CARPE NOCTEM Wax Seal Pendant
-Solid .925 sterling silver anchor with "Maritime" stamped vertically down the shank
-Solid .925 sterling silver wax seal pendant features the Latin words CARPE DIEM with a compass, used by sailors for navigation during the day, on one side and CARPE NOCTEM with an astrolabe, used for navigation at night, on the other.
CARPE DIEM means "Seize the day." One of the most timeless maxims still quoted in the modern world, Carpe Diem is a rallying cry to take initiative. Without a firm grasp on your destiny, time can fade away in an instant, and take with it your opportunity to direct your course and pilot your fate. This pendant serves as a reminder to seize your day every day and make the most of every moment, and be as productive as you can while the daylight lasts.
CARPE NOCTEM means "Seize the night." While this phrase is quoted less than its counterpart, it is still a recognizable motto and is used more often in the context of fun and enjoyment. When darkness falls, the day's work is done and many cares can be put aside until the next sunrise, and we are free to seize the night and create whatever joy strikes our fancy.
We appreciate the dual nature of this juxtaposition of ideals, and enjoy the contrast that the images of day and night create. Wear this pendant with the same side always presented to a viewer, or switch between the two sides depending on which phrase you want to focus on for the day.
-Hand-casted in the U.S.A. 
-26'' stainless rolo chain
Your purchase helps provide clean water in developing countries! We give 10% of our net profits to help dig wells in India and Africa. 
Customer Reviews
Write a Review
Ask a Question
12/04/2020
Steven P.
United States
Wonderful
My son just turned 18 and his plan is joining the military... this is a Christmas gift and I know he is gonna love it ... thank you so very much ♥️
11/27/2020
Erica S.
United States
Runner up
If the anchor was about half the size, my husband probably would've kept this one too. It was just a bit too big. However, the quality of the necklace was great.
10/27/2020
Jonathan B.
United States
Fabulous Jewlery
I love this necklace and pendants! I've order another one since purchasing this one! The quality is amazing a real value for the money! I own four of the necklace pendant sets with absolutely no regrets! I should ask if they have a frequent buyers club rewards! Thank Maritime I enjoy my jewelry!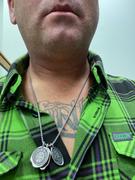 11/02/2020
Maritime Supply Co
Thank you for all your support, Jonathan!! -Ian