Maritime Supply Co
NOSCE TE IPSUM "Know Thyself" - Brass Coin Necklace
Part of our Captain's Script coin collection.
Hand-crafted from start to finish, this stamped coin features the Latin phrase NOSCE TE IPSUM, which means "Know thyself."
This archaic phrase was famously stated by Socrates, who sought to teach that we must first understand ourselves before we can hope to understand others. This is a noble pursuit, as only with understanding comes positive and lasting change.
Coin pendant is 1" in diameter.
Purchase this coin as a keychain instead of a necklace here.
If you are unsure about which chain length to order, please read our suggestions on the FAQ page.
Please note: All our brass pendants are raw brass, meaning they are not electroplated and will develop a beautiful patina over time. We recommend polishing it with a soft cloth to help keep your pendant's original shine if you prefer the bright metal look.
OUR PLEDGE
All of our customers are part of our crew, and we take care of our own. If you have any issues with your order, we will do everything we can to fix the problem.
"Quality means doing it right when no one is looking."
Henry Ford
Customer Reviews
Write a Review
Ask a Question
04/29/2021
Kerrie M.

United States
"Know Thyself" indeed!
I absolutely love this pendant for specifically this sentiment! I ordered the "Esse Quam Videri" and "Know Thyself" brass coin necklaces first (I already have a long wish list!) because of Erin Morgrnstern's novels, _The Night Circus_ and _The Starless Sea_, which have those quotes. The little origami boat that Molly included was the most perfect touch, fitting perfectly with one of the later scenes in TSS!!!! I will definitely be ordering more from MSCo soon!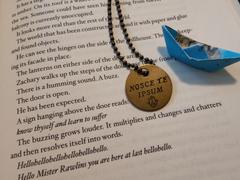 04/17/2021
Joshua R.

United States
Simple.
I've order 4 necklaces at this point and this recent order is no different. The delivery was quick. The quality is as advertised and the company is easy to work with. Maritime Supply Co. has a customer for life.
04/07/2021
Bill V.

United States
Perfect
Exactly as promised.